The Maplewood Marine Restoration Project (Free Webinar)
October 6 from 12:30 pm

to

1:30 pm

PDT
The BCIT School of Construction and the Environment Sustainability Speaker Series presents
The Maplewood Marine Restoration Project
Speakers: Charlotte Olson, Manager Habitat Development, Vancouver Fraser Port Authority & Vanessa Koo, Senior Project Coordinator – Habitat Development, Vancouver Fraser Port Authority

The Maplewood Marine Restoration Project is located on the north shore of Burrard Inlet, approximately two kilometres east of the Ironworkers Memorial Bridge, in a marine site that was identified as a restoration priority by the Tsleil-Waututh Nation. The site lies within a large marine tidal area immediately south of a wildlife conservation area. The project has restored ~4.5 hectares of habitat within this basin by creating a tidal flat, an eelgrass bed and a rock reef.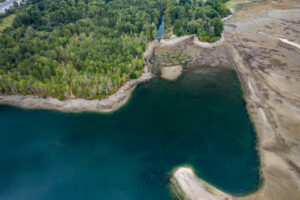 The Vancouver Fraser Port Authority's Habitat Enhancement Program, which focuses on creating, restoring and enhancing fish and wildlife habitat to help maintain a balance between a healthy environment and future infrastructure development that may be required for port operations, delivered the project. A major portion of the marine habitat created at the project site will be used to fulfil the fisheries habitat offsetting requirements for the Centerm Expansion Project, as determined by Fisheries and Oceans Canada (DFO). The port authority as an organization, has a vision to be the world's most sustainable port- and this project is an example of balancing a growing gateway and restoring nearshore marine habitat.
Charlotte Olson, Manager for Habitat Development, and Vanessa Koo, Senior Project Coordinator for Habitat Development, at the Vancouver Fraser Port Authority will provide a brief overview of the Habitat Enhancement Program and the Maplewood Marine Restoration Project. The presentation will also cover the various phases of construction, including marine civil works, eelgrass harvest and transplant, design considerations and post-construction monitoring.
Speaker: Charlotte Olson, Geo, PMP, Manager, Habitat Development, Vancouver Fraser Port Authority
Charlotte Olson is the Manager, Habitat Development at the Vancouver Fraser Port Authority, Canada's largest port.  Working within the port authority's Ecosystems Management & Environmental Programs Department, Charlotte is responsible for overseeing a project portfolio.  This includes providing leadership and project management to a multi-disciplinary team in the delivery of large-scale habitat enhancement projects across the port's jurisdiction.  With almost 20 years of experience, Charlotte plays an important role in helping the port authority fulfill its mandate of facilitating Canada's trade objectives, ensuring goods are moved safely, while protecting the environment and considering local communities.
Speaker: Vanessa Koo, Senior Project Coordinator, Habitat Development, Vancouver Fraser Port Authority
Vanessa Koo is a Senior Project Coordinator for Habitat Development at the Vancouver Fraser Port Authority with over 10 years of public and private sector experience in the environmental field. Vanessa oversees annual monitoring, maintenance and adaptive management of the port authority's 13 habitat bank sites, helping to administer the largest fish habitat bank in Canada under agreement with DFO.