In early 2018, Dr. Eric Saczuk spent 14 days in Antarctica assessing the feasibility of using drones to collect vital climate change data: "Can drones be used effectively to study animal behaviour, to study the topography, the physical environment in Antarctica? Are they a useful tool? Are the sensors that can now be attached to drones useful in that type of harsh environment?" (Global News interview)
With BCIT grants to cover the costs of travel, Eric's goal was to test the feasibility of using colour, multispectral, and thermal sensors attached to an RPAS to record and monitor glacial surfaces, wildlife, and the status of vegetation in the western Antarctic Peninsula. The images he captured were used to create meaningful map products, including topography, estimation of ice/snow volume, penguin counts based on thermal imagery, and baseline data of the current extent of glaciers.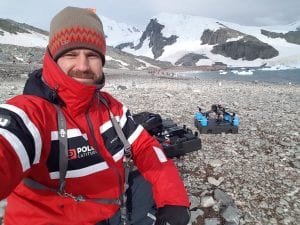 Bringing research back to the classroom
This expedition was a rare opportunity to showcase BCIT's ability to carry out international research. It also allowed Eric to capture a unique data set for processing and incorporation into existing Geomatics and Forest and Natural Areas Management courses.
Eric hopes that his research will help BCIT students "benefit from the lessons learned and the data acquired in order to better equip them to deal with the challenging and dynamic work environment they face in today's competitive job market."
Read about other internal research and instruction at BCIT.