Congratulations, student award recipients!
On behalf of the BCIT community, I am proud to recognize your success, which has been demonstrated by your academic achievement, outstanding leadership, and positive contributions in our community. I wish to congratulate you, our students, and to thank our many donors for making these awards possible.
Paul McCullough
Interim President, BCIT
Featured awards
These achievement awards recognize outstanding BCIT students that exemplify excellence, both as students in their programs and as leaders among their peers.
The Governor General's Academic Medal is presented each June to the student who obtained the highest overall weighted average in the last two academic terms and is graduating from a full-time, two-year Technology diploma program at BCIT. This award goes to Jamie Samuel upon completion of the Full Stack Web Development Diploma Program.
Jamie graduated in June 2022 with an impressive weighted average of 96.86%. He claims to owe much of his success to his hardworking and supportive classmates, friends, and BCIT faculty, who provided the guidance and encouragement to grow into the creator and collaborator he is today. Jamie co-founded BCIT's Design and Development Student Club, which provides a welcoming academic and social atmosphere for aspiring designers and developers. He is also an advocate for open-source software—a love discovered while at BCIT—and plans to publicly launch two open-source projects with classmates in late 2022. The first is a collaborative markdown editor called Minera and the second, Runik, is a desktop application that generates e-reader compatible dictionaries for your favourite book or universe. In the future, Jamie plans to work as a software engineer and continue working on open-source projects.
Congratulations Jamie!
The Lieutenant Governor's Medal recognizes students who have excelled in promoting diversity and inclusion, civic engagement, and acted to transform society by answering the call to Reconciliation. This award is presented to Tyler Greenwood upon completion of the Technology Teacher Education Diploma.
Tyler received multiple nominations for this award, and is recognized for his hard work, excellent academic performance, ambition, and enthusiasm to get involved. Most importantly, Tyler was acknowledged for being an outstanding student and human being. He stepped forward to represent his set, and was a student representative on Education Council, performing both roles with the delicate balance of classmates, program, and Institute. Tyler acted with the highest level of professionalism in all of his work, and was seen as a thoughtful contributor and an effective team player. He also found time to be a strong leader in the community, active in coaching and training youth in areas ranging from athletics to robotics, and serves with The Royal Canadian Cadets as a leader and trainer. Those around Tyler delighted in his cheerful and infectious energy. Tyler will no doubt achieve his dreams, including that of completing a graduate program in adult education.
Congratulations, Tyler!
This award recognizes a student who has achieved an excellent academic record and contributed positively to the life of the Institute or the community at large. This award is presented to Rachel Barker upon completion of the Bachelor of Technology Management.
Rachel completed her degree as a Part-time Studies student while working full-time in the rapid paced world of information technology, and during a time of COVID-19. Her capstone graduation project was pivotal in positioning BC healthcare professionals in adopting a virtual work environment with heavy reliance on digitalization. In addition to work and school, Rachel was active with leadership roles with several organization within her healthcare field. Since graduation, Rachel has taken on a key Senior Manager role with the Provincial Health Services Authority. She plans to continue her education and achieve an MBA in Management of Technology by 2024.
Congratulations, Rachel!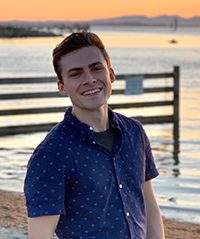 This award recognizes a student who has achieved an excellent academic record and contributed positively to the life of the Institute or the community at large. This award is presented to Erik Hayes upon completion of the Advanced Diploma in Clinical Genetics Technology.
Erik displayed outstanding leadership during his time at BCIT during a challenging period of COVID-19 adjusted curriculum. Erik exhibited professionalism, positivity, and excellent communication in the program and during his didactic and clinical placements. He took on the role of student representative for his class, reporting to the Clinical Genetics Advisory Council. Erik was always on time, engaged with course content, and was a team player who went out of his way to help others, leaving a strong impression on instructors, fellow students, and those in industry. Erik did this while maintaining an extremely high GPA over 91%.
Congratulations, Erik!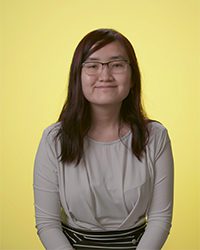 This award is presented to a student who has achieved a first-class average, exhibitedstrong teamwork skills, and demonstrated active participation in student activities that have brought recognition to the Institute. This award goes to Vicly Cao upon completion of the Computer Systems Technology Diploma.
Vicly demonstrated strong leadership skills and teamwork in the delivery of two industry projects, with both clients requesting additional work above what was initially planned. For one project, Vicly and her team demonstrated the possibilities and potential of augmented reality in the roll out of their product for the food industry. Another project helped create a platform where endangered languages can be taught and preserved through lessons, chatting with others, and via chatbots. Both industry clients were impressed. In addition to industry projects and course load, Vicly found time to volunteer with first year students. She maintained an impressive GPA of 93.8%, and secured employment with the same company she did her co-op term at.
Congratulations, Vicly!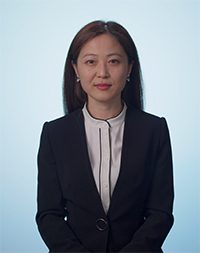 This award recognizes a student who has achieved GPA of 70 percent or higher and demonstrated outstanding leadership and service to the BCIT community or the community at large. This award is presented to Annika Sun upon completion of the Airline and Flight Operations Commercial Pilot Diploma.
Annika started her program at BCIT during COVID-19, yet managed to volunteer and contribute to the aviation industry in BC and Canada. Some of Annika's amazing contributions include being voted by peers to be the BCIT Ambassador for WestJet Pilot Pathways Program, volunteering with Canadian Women in Aviation and Dreams Take Flight, being involved with BC Aviation Council, as well as speaking engagements at Wings Over Canada and BC Aviation Council Conference. She always maintained high academic standing, and was both passionate about the program and compassionate with fellow students, earning respect from classmates, instructors, and industry partners. Annika maintained professionalism commensurate with that of an airline pilot, and was committed to safety. Annika's proven knowledge, passion, and commitment ensure she will be a future leader in the aviation industry.
Congratulations, Annika!
Student Awards Program
The Student Awards Program highlights our high-achieving students, the significance of the donor-funded awards they have received, and the generous donors that support our students' success.
Our generous donors