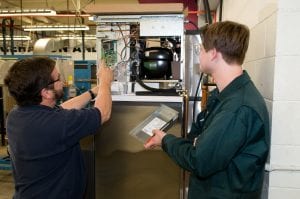 You become a partner in the student's education and skill-building experiences. In return, students provide you with work to benefit your company. Co-op work terms are short-term placements during which you, with support from BCIT, oversee and educate a BCIT Trades Co-op student. Find out what types of employment can qualify as Co-op positions, what to expect on a day-to-day basis throughout the work term, and what support Co-op employers and students receive from BCIT.
Types of employment
To qualify as a Co-op work term, the position you are hiring for is expected to be:
Paid at an appropriate salary for your industry and level of responsibility
Supervised by a professional who is keen to mentor and motivate the student
A fair and safe environment according to BC's Employment Standards Act and WorkSafeBC
Challenging work to provide the student with skill-development relating to their program
A minimum number of hours for each work term as defined by the program:

ASTO: 660 hours
CNC: 990 hours
HVAC: 660 hours
Day-to-day
You become a partner in the student's education and skill-building experiences. Students will set learning objectives, be supervised by a senior employee, and receive feedback and evaluations on their work. Unlike an apprenticeship, you are only committing to hiring the student for the duration of the work term. BCIT's Co-op office will act as the student's sponsor for ITA, and will report their hours.
Employers/supervisors are expected to train their student to develop skills that are relevant to their trade and to provide ongoing feedback along with an end of term performance evaluation. The end of term evaluation will also be submitted to the Co-op office.
Support from BCIT
In addition to assisting with the hiring process, BCIT's Trades Co-op Coordinators are a resource throughout the term and can deal with any problems that arise either from the student's or employer's perspective. Mid-way through the work term, the Coordinator will arrange to check in with you and your student to discuss the student's responsibilities and progress.
At the end of the work term
The BCIT Co-op office will send you a final student evaluation to complete near the end of the term. A satisfactory evaluation along with a student-completed work term assignment is required for a student to pass their work term.  This is reflected on their BCIT transcript.
Sorry to see them go? Don't worry – students may be available to complete a future work term later in their program, or to start a full-time position after graduation.