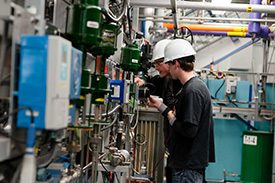 Through Workplace Education (Co-op), employers and educators share the responsibility of preparing students for today's rapidly changing environment. Employers become co-educators and help to develop students as effective members of their industries.
Co-op is a three-way partnership between cooperating employers, students and the institution. Students are paid for their work experience and are evaluated by the employer and BCIT. BCIT approves work placements to ensure they are suitable and relevant. To be eligible for Co-op, students must be enrolled full time in a BCIT program that supports Co-op or Workplace Education.
Work placements allow students to apply their classroom knowledge and develop new skills in a professional setting. Students can choose to work in a variety of fields within their program area. Different work placements also allow students to network within their industry, which helps in finding employment after graduation.
Co-op programs are developed with industry recommendations. Employers give feedback on the relevance of BCIT's programs as to whether they are generating the appropriate level of competence required in prospective employees. This process ensures participating students are in the forefront of industry trends and practices.