Elders are the keepers of Indigenous knowledge and encourage and promote understanding and respect for Indigenous perspectives, culture, and values across BCIT campuses and beyond.
Mary Roberts, Musqueam Indian Band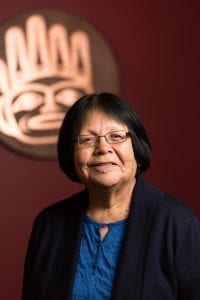 Mary Bernadette Roberts was born to George and Ethel Roberts (nee Pierre). She was raised in Musqueam community with a strong cultural and traditional upbringing taught mostly from her grandmother Elizabeth Roberts.

Mary was a First Nations School Support Work for Vancouver School Board for over 30 years. Now she is the Elder in Residence at BCIT since May 2016.
Mary has assisted with programs for children needing additional forms of support through her educational experience and awareness of community needs. She believes in the inclusiveness for the youth to be involved in her community. She enjoys all types of activities which including health, cooking, tutoring, crafts and sharing cultural values.
Mary ensures she incorporates Musqueam traditional values in what she does. She has a connection for our youth to our ancestors and she continues to mold and guide our young people.
She dedicates a great deal of time and effort in helping revitalize Archaeological projects she works on, and supporting Intergovernmental Affairs programs.
She is always there to help and truly represents the past, present and future with her gentle way at incorporating language, cultural and teachings.
Alf Dumont, Ojibwa
Alf's Ojibwa name is Biidaaban Migizi. He has served in the United Church of Canada for 40 years as a minister and as director of the Dr. Jessie Saulteaux Resource Centre (a theological training centre for First Nations people entering ministry), among otherpositions. He works to help build bridges of understanding between Christian and traditional Ojibwa spiritual ways.
Please contact our office if you have any questions or would like to schedule an appointment.