Burnaby Campus
The entire west side stalls on Parking Lot P15 will be blocked while streetlight and landscaping works are underway from October 12 to October 20, 2022.
Please refer to the map attached for further reference.
Facilities Contact: Luis Valenzuela – 778-928-2028
Expected Service Restoration Time: October 21, 8 am
Closure Plan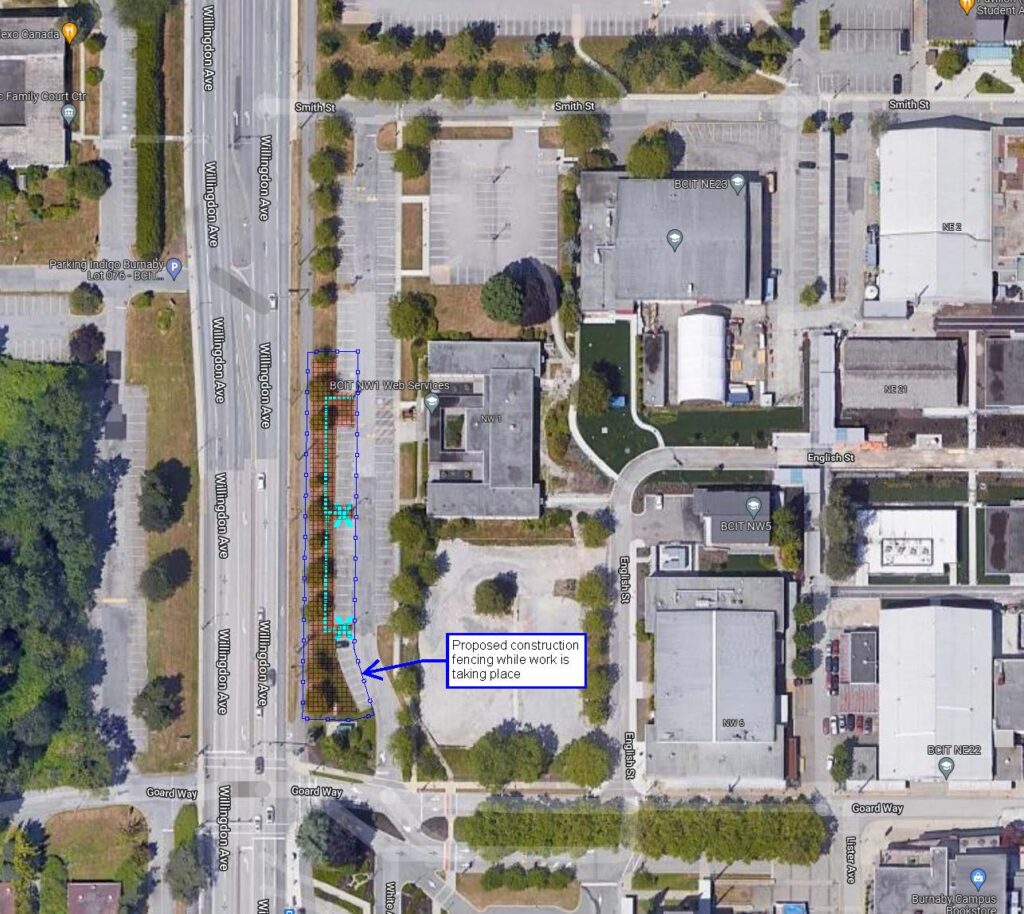 Beginning, September 24th 2021 the plaza area on Burnaby campus will be fully closed due to construction work. This is part of the redevelopment of the space to create an improved entrance to the Burnaby campus and revitalised plaza area. The area closed will be between White Avenue and Lister Avenue to the north side of SW1. Pedestrian access to campus will be maintained via the N side of SW1. SW1 and all services will remain open as normal.
Signage will be placed around the site to help pedestrians navigate the construction containment perimeter.
Facilities Contact: Ryan Jacobs Project Manager, Project Services
Map of the closure
With the addition of new visitor parking at HSC, we are converting the existing visitor lot outside SW1 to create additional 15-minute drop-off, accessible stalls, and contractor stalls, which are needed.
With this change, the pay station outside SW1 has been removed and the 2 EV charging stations will be relocated.
These changes will take effect on August 29. Signage will be provided to direct visitors to the new parkade.
In preparation for the excavation phase of the BCIT TTSH Project, Parking Lot K will be closed. The General Contractor will use the site for the layover area for tracks.
Coinciding with the Lot K closure, two short sections of the walking path currently used to access the lot will also be closed, (one path located north of Lot K and one east of Lot K).
An alternative route will be signed.
During the closure, the Parking Kiosk and Emergency Call Station will remain active and accessible to patrons.
Closure Period: October 10, 2022 – Fall 2024
Plan of the Closures